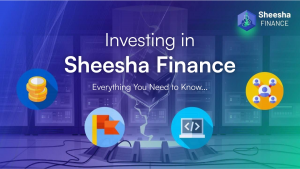 As an investor, are you ready to be a part of the next generation of innovation and success in the world of finance?
What is Sheesha Finance?
Look no further than Sheesha Finance, the decentralized, tokenized incubator, and accelerator that's helping web3 startups across all industries and blockchain networks build products and services that solve real-world teething problems.
Based in the MENA region, Sheesha Finance is one of the first platforms to provide everyday investors with access to a diverse portfolio of early-stage projects, and its smart contract-based system is fully autonomous, making it efficient and user-friendly for both institutional and retail investors.
With its open-access platform and easy-to-use interface, Sheesha Finance has quickly become one of the most popular web3 incubators and accelerators in the region.
What problems does Sheesha Finance solve?
1. Finding a well-researched Diversified Portfolio of Projects can be difficult
Sheesha Finance understands the challenges that everyday investors face when it comes to finding a diverse and profitable portfolio of well-researched early-stage web3 projects. As a company that is committed to changing the face of web3 entrepreneurship, their research team provides thorough due diligence on all projects they are presented with.
2. Token Distribution Delays
As an investor, you want to see the value of your investment grow as quickly and efficiently as possible. Their innovative approach to portfolio management streamlines the value accrual process, allowing them to quickly realize profits and boost the ecosystem of Sheesha Finance. This means that you can enjoy the benefits of your investment more quickly, without having to wait for tokens to vest or be distributed.
3. Managing Investment from multiple projects can be time-consuming
Sheesha Finance has a reputation for efficiency and profitability in the world of web3 investing. While other projects may have complicated claiming portals, Sheesha Finance streamlines the value accrual process internally, allowing them to quickly realize profits and boost the ecosystem of Sheesha Finance. This means that investors can enjoy the benefits of their investment without having to worry about the hassles that come with managing multiple other web3 projects.
Who is the Founder of Sheesha Finance
Saeed Al Darmaki is the founder of Sheesha Finance, who entered the blockchain space by co-founding Alphabit Digital Currency Fund in 2017, using his experience in traditional finance in asset management from the Abu Dhabi Investment Authority (ADIA) from 2009–2018.
Saeed personally invested in bitcoin in 2017, which led him to angel investing, resulting in those projects seeing his potential and adding him to their Advisory Boards. Throughout his impressive career in the industry, Saeed has consistently demonstrated his exceptional skills and innovative thinking.
His hard work and dedication have not gone unnoticed, as he has been recognized with numerous accolades and awards, including the esteemed title of Crypto Entrepreneur of the Year from AIBC Malta. This prestigious honor is a testament to Saeed's unwavering commitment to excellence and leadership within the crypto community.
With a passion for empowering others and a drive to make a positive impact, Saeed set out to create a platform that would provide others with the same opportunities he was fortunate enough to have. And thus, Sheesha Finance was born.
This innovative company was founded on the principles of inclusivity and equal access, with the mission of helping the broader community achieve financial success. Under Saeed's visionary leadership, Sheesha Finance has become a trusted and respected name in the industry, offering a range of services designed to help people from all walks of life reach their financial goals.
What gives the Sheesha Tokens their value now and in the Future
Sheesha Finance is the gateway to investing in Web3 Startups
1. Token Appreciation Through Buy Backs
The tokens are valued for their technical capability, utility, and features. However, the value of the tokens is also defined by their supply, which is limited to all 3 tokens. The Sheesha Finance ecosystem uses the project tokens they partner with to buy the native tokens and remove them from the circulating supply. That way the circulating supply is gradually reduced, yielding a continuous positive price action on the token.
2. Staking Rewards
Sheesha Finance believes that everyone should have the opportunity to earn and grow their wealth, regardless of their financial knowledge or starting capital. That's why they've made it easy for anyone to get started with the native tokens, with investments starting at just 1 USD. By staking the tokens, investors can earn incredible returns of up to 100% APY with daily compounding.
3. NFT Lottery
At Sheesha Finance, they understand the growing importance of earning through NFTs as a valuable revenue stream. That's why they're proud to be working with some of the most talented and influential NFT artists in the region including Vesa, to bring their investors exclusive opportunities to get in on the action. By staking the tokens and holding them for the long term, their investors will have access to exclusive NFT lottery drops where a portion of the sales volume from those NFTs will be distributed in the form of native token airdrops. It's a unique and exciting way to earn and grow your wealth through the power of NFTs and the thriving creative community at Sheesha Finance.
4. Project Partner Rewards
As a holder of rare NFTs, investors have the opportunity to be at the forefront of the next big thing in the world of web3. At Sheesha Finance, they're constantly seeking out early-stage projects with the potential to make a major impact, and they're offering rare NFT holders the chance to be rewarded with project partner tokens once they have listed in their evolving portfolio. This is a unique opportunity to not only showcase your collection of rare NFTs but also to be a part of the next generation of innovation and success in the world of finance.
5. DAO Governance
At Sheesha Finance, they believe in the power of community and the importance of giving their members a voice in the decision-making process. That's why they're proud to introduce the Sheesha Finance DAO, which allows their community members to participate in the governance of the platform by voting on proposals using their tokens. With the Sheesha Finance DAO, you can have a say in the direction of the platform and play an active role in shaping its future
6. Get Allocation in Hand-Picked Early-Stage Projects
As a holder of native tokens and rare NFTs, investors will be able to maximize their returns by having a chance to take an allocation in special, separate private placements with exciting new projects. This is a once-in-a-lifetime opportunity to not only showcase your collection of rare NFTs, but also the chance to supercharge their investment portfolio
How Many $SHEESHA Tokens Are in Circulation?
As an investor in Sheesha Finance, you can have confidence in the stability and growth potential of the SHEESHA tokens. There are currently 3 types of Sheesha tokens with separate Circulating Supplies.
$ESHEESHA on Ethereum chain:
85,000 tokens and approximately 45,000 are currently in circulation.
$BSHEESHA on Binance Smart Chain:
85,000 tokens and approximately 49,000 are currently in circulation.
$MSHEESHA on MATIC or Polygon chain:
1 billion tokens and approximately 205 million are currently in circulation.
All 3 tokens are carefully regulated to ensure a healthy balance of supply and demand. And to further support the ecosystem, Sheesha Finance uses a significant portion of its revenue to buy back all 3 Sheesha native tokens from circulation, contributing to the liquidity of the ecosystem and the overall value of the token. It's just one of the ways that Sheesha Finance is committed to driving long-term growth and success for its investors.
Is it Safe to Stake Sheesha Tokens?
As an investor in Sheesha Finance, you can have complete confidence in the expertise and dedication of their ecosystem development team. With years of experience in web3 product development, they are committed to driving value for their community through their innovative approach and dedication to staying ahead of the curve. And when it comes to the safety of your tokens, Sheesha Finance has you covered. As long as you don't share personal information with anyone, your tokens are safe and secure. With Sheesha Finance, you can trust that your investment is in good hands and poised for long-term success.
How To Buy The Sheesha Tokens
Are you ready to be a part of the future of web3?
Then it's time to invest in Sheesha Finance, the revolutionary tokens driving growth and innovation at Sheesha Finance. With $ESHEESHA available on UniSwap, $BSHEESHA available on PancakeSwap, and $MSHEESHA available on QuickSwap, it's never been easier to get your hands on this exciting and lucrative investment opportunity.
But that's not all — by following Sheesha Finance on social media and staying up to date on their portfolio of exciting new projects, you'll have the inside track on the latest and greatest opportunities in the world of finance. Don't miss out on this exciting opportunity — buy these tokens today and join the Sheesha Finance community on the path to financial success!
Know more about us: https://linktr.ee/sheeshafinance
Sheesha Finance — The Future of Web3 Startups